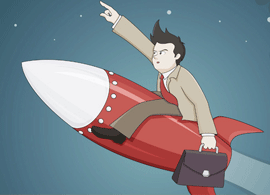 eCommerce SEO services are helping eCommerce firms in creating brand visibility across the crowded sector. With eCommerce websites being such a rage these days, almost every business is going the eCommerce way to attract and convert potential buyers online, right from their websites. In such stiff competition, how will you make sure that your website appears in the top search results?
Our SEO Ecommerce approach for your site is customized as per your need and helps you increase your presence in the target market. We have helped the small startup in becoming a BIG eCommerce portal by providing effective eCommerce SEO services. For the last 7 years, we've been helping our client selling product direct-to-consumer. Our experience in eCommerce makes us an eCommerce SEO company in the market.
Our search engine optimization core services include: Organic Search, On-Page SEO, Link Building, Keyword Research / Strategy and Activity Report.
Guaranteed and Results Oriented SEO Services from 5 Years!
THE DIGI FIRM is one of the oldest SEO Companies successfully operating since year 2015. During these years THE DIGI FIRM has developed a robust and result oriented SEO Process, which has helped more than 500 websites achieve higher visibility on the search engines, globally.
Experience: SEO is very dynamic and is an undefined science – you learn it with experience.
At DIGI FIRM, we are doing SEO from 5 years now and have successfully managed more than 1000 campaigns with proven results.
Team: It is the individuals, which makes the difference.
At DIGI FIRM, we currently have a highly skilled team of 85 Internet Marketing Experts working in different capacities as Group Project Manager, Project Managers, On Page Expert, Off Page Experts, Content Writers, Programmers and Quality Experts, all working in DIGI FIRM with a single objective of providing high customer satisfaction and results.
R&D: Search engines continuously roll out new updates all the time and it is must to remain on top.
At DIGI FIRM, we have a separate team of research specialist, the core responsibility of which is to closely monitor all campaigns, collate data, conduct tests and refine the process and strategies all the time.
Communication: Communication is key to any online marketing campaign's success.
At DIGI FIRM, we are proud to say that we are one of the best when it comes to communication and reporting. With project management and online campaign tracking system and availability of live support via phone, instant messaging service and emails we keep our clients updated all the time. Our reports are rated highly by the clients.

For more information on our eCommerce Services, call us at +91 700 800 2123 or via email at sales@thedigifirm.com